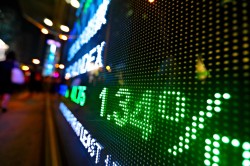 Granite Real Estate Inc. (NASDAQ:GRP.U) announced a dividend on Monday, August 19th, NASDAQ reports. Shareholders of record on Friday, August 30th will be given a dividend of 0.177 per share on Monday, September 16th. The ex-dividend date of this dividend is Thursday, August 29th.
Granite Real Estate stock opened at $47.56 on Wednesday. Granite Real Estate has a 52-week low of $36.43 and a 52-week high of $49.18. The business's 50 day simple moving average is $46.58.
Granite Real Estate (NASDAQ:GRP.U) last released its earnings results on Wednesday, July 31st. The company reported $1.53 earnings per share (EPS) for the quarter, topping the Zacks' consensus estimate of $0.67 by $0.86. The business had revenue of $50.77 million for the quarter.
A number of research firms have issued reports on GRP.U.
Zacks Investment Research
upgraded shares of Granite Real Estate from a "hold" rating to a "buy" rating and set a $52.00 target price on the stock in a report on Wednesday, August 7th. Desjardins reiterated a "hold" rating on shares of Granite Real Estate in a report on Tuesday, April 30th.
Featured Story: How is a buy-side analyst different from a sell-side analyst?
Receive News & Ratings for Granite Real Estate Daily - Enter your email address below to receive a concise daily summary of the latest news and analysts' ratings for Granite Real Estate and related companies with MarketBeat.com's FREE daily email newsletter.