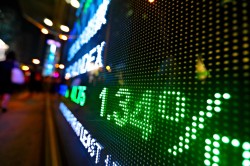 BioHiTech Global (OTCMKTS:BHTG) announced its quarterly earnings results on Wednesday. The company reported ($0.15) earnings per share (EPS) for the quarter, missing the Thomson Reuters' consensus estimate of ($0.05) by ($0.10), Fidelity Earnings reports. The company had revenue of $1.05 million during the quarter.
BHTG traded down $0.19 during trading on Thursday, reaching $2.02. 675 shares of the company were exchanged, compared to its average volume of 18,040. The company has a 50-day simple moving average of $1.99. BioHiTech Global has a 12-month low of $1.60 and a 12-month high of $4.50.
Separately, Ascendiant Capital Markets assumed coverage on BioHiTech Global in a research note on Monday, July 22nd. They issued a "buy" rating and a $5.00 price objective for the company.
About BioHiTech Global
BioHiTech Global, Inc provides an environmentally friendly solution for food waste disposal. The Company, through its subsidiaries, BioHiTech America, LLC and BioHiTech Europe Limited, offers its customers various technologies integrating technological, biological and mechanical engineering solutions for the control, reduction and/or reuse of organic waste.
Featured Story: How to Calculate Compound Annual Growth Rate (CAGR)
Receive News & Ratings for BioHiTech Global Daily - Enter your email address below to receive a concise daily summary of the latest news and analysts' ratings for BioHiTech Global and related companies with MarketBeat.com's FREE daily email newsletter.