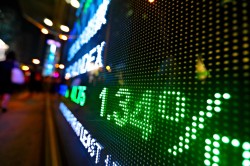 Altura Energy Inc (CVE:ATU) shares hit a new 52-week low on Tuesday . The company traded as low as C$0.33 and last traded at C$0.34, with a volume of 127700 shares changing hands. The stock had previously closed at C$0.37.
Separately, GMP Securities dropped their price objective on Altura Energy from C$0.75 to C$0.60 in a report on Friday, June 28th.
The business has a fifty day moving average of C$0.40. The stock has a market cap of $39.76 million and a PE ratio of 12.14. The company has a current ratio of 0.60, a quick ratio of 0.56 and a debt-to-equity ratio of 4.97.
Altura Energy (CVE:ATU) last announced its earnings results on Tuesday, May 14th. The company reported C$0.01 earnings per share (EPS) for the quarter, hitting analysts' consensus estimates of C$0.01. The company had revenue of C$7.45 million for the quarter. On average, analysts forecast that Altura Energy Inc will post 0.05 earnings per share for the current fiscal year.
About Altura Energy (CVE:ATU)
Altura Energy Inc engages in the exploration, development, and production of oil and natural gas in central Alberta. It holds interests in the oil producing units of the Leduc-Woodbend area located in Alberta. The company was formerly known as Northern Spirit Resources Inc and changed its name to Altura Energy Inc in October 2015.
Read More: Bear Market – How and Why They Occur
Receive News & Ratings for Altura Energy Daily - Enter your email address below to receive a concise daily summary of the latest news and analysts' ratings for Altura Energy and related companies with MarketBeat.com's FREE daily email newsletter.