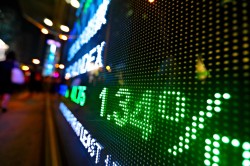 Yourgene Health PLC (LON:YGEN) insider Hayden Jeffreys bought 83,512 shares of the stock in a transaction that occurred on Wednesday, July 31st. The shares were purchased at an average price of GBX 12 ($0.16) per share, with a total value of £10,021.44 ($13,094.79).
Hayden Jeffreys also recently made the following trade(s):
On Wednesday, May 8th, Hayden Jeffreys acquired 222,348 shares of Yourgene Health stock. The stock was bought at an average price of GBX 11 ($0.14) per share, with a total value of £24,458.28 ($31,959.07).
Shares of YGEN opened at GBX 12.25 ($0.16) on Friday. The firm has a 50-day moving average of GBX 12.44. The company has a quick ratio of 0.94, a current ratio of 1.25 and a debt-to-equity ratio of 2.67. The stock has a market cap of $73.38 million and a PE ratio of 13.61. Yourgene Health PLC has a 1 year low of GBX 6.42 ($0.08) and a 1 year high of GBX 16 ($0.21).
Separately, FinnCap reiterated a "corporate" rating on shares of Yourgene Health in a research note on Monday, April 8th.
About Yourgene Health
Yourgene Health Plc, a molecular diagnostic company, develops tests for non-invasive prenatal screening and other applications in the United Kingdom and internationally. The company develops the IONA Test, an in vitro diagnostic non-invasive pre-natal screening test for pregnant women to estimate Down's syndrome, Edward's syndrome, and Patau's syndrome.
Further Reading: What does a neutral rating on stocks mean?
Receive News & Ratings for Yourgene Health Daily - Enter your email address below to receive a concise daily summary of the latest news and analysts' ratings for Yourgene Health and related companies with MarketBeat.com's FREE daily email newsletter.