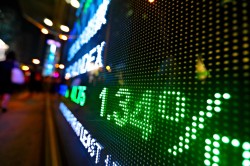 Wall Street analysts forecast that Gold Standard Ventures Corporation (NASDAQ:GSV) will post earnings of ($0.01) per share for the current quarter, according to Zacks Investment Research. Zero analysts have provided estimates for Gold Standard Ventures' earnings. Gold Standard Ventures also posted earnings of ($0.01) per share during the same quarter last year. The business is expected to issue its next quarterly earnings report on Monday, August 12th.
According to Zacks, analysts expect that Gold Standard Ventures will report full-year earnings of ($0.03) per share for the current year. For the next financial year, analysts expect that the business will report earnings of ($0.02) per share. Zacks Investment Research's earnings per share averages are an average based on a survey of research firms that cover Gold Standard Ventures.
Gold Standard Ventures (NASDAQ:GSV) last announced its earnings results on Monday, May 13th. The company reported ($0.01) EPS for the quarter.
Separately, B. Riley reiterated a "buy" rating on shares of Gold Standard Ventures in a report on Wednesday, July 24th.
Shares of NASDAQ:GSV opened at $1.03 on Friday. Gold Standard Ventures has a 52-week low of $0.86 and a 52-week high of $1.86.
Gold Standard Ventures Company Profile
Gold Standard Ventures Corp., an exploration stage company, engages in the acquisition and exploration of gold-bearing mineral resource properties in Nevada, the United States. Its flagship property is the Railroad-Pinion project covering approximately 53,769 gross acres of land in Elko County, Nevada.
Read More: What does it mean to hold a stock in street name?
Get a free copy of the Zacks research report on Gold Standard Ventures (GSV)
For more information about research offerings from Zacks Investment Research, visit Zacks.com
Receive News & Ratings for Gold Standard Ventures Daily - Enter your email address below to receive a concise daily summary of the latest news and analysts' ratings for Gold Standard Ventures and related companies with MarketBeat.com's FREE daily email newsletter.