Novus Therapeutics (NASDAQ:NVUS) issued its earnings results on Thursday, March 28th. The biopharmaceutical company reported ($0.49) EPS for the quarter, missing the Zacks' consensus estimate of ($0.40) by ($0.09), MarketWatch Earnings reports.
Novus Therapeutics stock traded up $0.09 during midday trading on Friday, hitting $4.24. 8,910 shares of the stock were exchanged, compared to its average volume of 11,080. Novus Therapeutics has a 1 year low of $1.52 and a 1 year high of $8.61. The company has a market capitalization of $40.00 million, a price-to-earnings ratio of -2.72 and a beta of 3.54.
A number of equities analysts have recently commented on the stock. Zacks Investment Research downgraded shares of Novus Therapeutics from a "hold" rating to a "sell" rating in a research note on Saturday, March 30th. ValuEngine raised shares of Novus Therapeutics from a "sell" rating to a "hold" rating in a research note on Wednesday, January 2nd.
COPYRIGHT VIOLATION NOTICE: This story was published by Baseball Daily News and is the sole property of of Baseball Daily News. If you are accessing this story on another publication, it was copied illegally and reposted in violation of US and international copyright and trademark law. The correct version of this story can be accessed at https://www.baseballdailydigest.com/news/2019/04/21/novus-therapeutics-nvus-announces-quarterly-earnings-results.html.
Novus Therapeutics Company Profile
Novus Therapeutics, Inc, a pharmaceutical company, focuses on developing products for patients with disorders of ear, nose, and throat. Its lead product is (OP-02), a surfactant-based combination drug product for patients at risk for, or with, otitis media (OM) (middle ear inflammation with or without infection).
Recommended Story: Different Types of Derivatives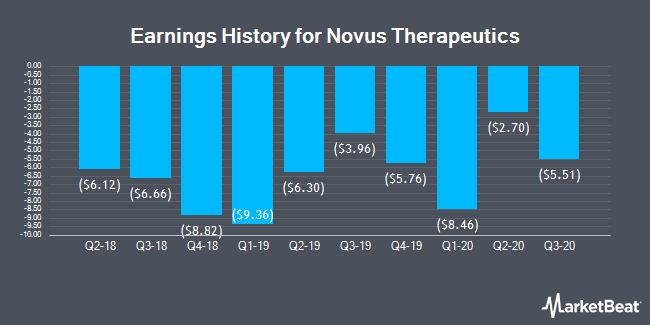 Receive News & Ratings for Novus Therapeutics Daily - Enter your email address below to receive a concise daily summary of the latest news and analysts' ratings for Novus Therapeutics and related companies with MarketBeat.com's FREE daily email newsletter.