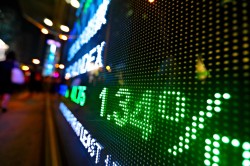 Shares of Harrow Health (NASDAQ:HROW) have received a consensus broker rating score of 1.00 (Strong Buy) from the two analysts that cover the company, Zacks Investment Research reports. Two research analysts have rated the stock with a strong buy recommendation.
Analysts have set a twelve-month consensus price objective of $10.75 for the company and are forecasting that the company will post $0.12 EPS for the current quarter, according to Zacks. Zacks has also given Harrow Health an industry rank of 176 out of 255 based on the ratings given to its competitors.
A number of brokerages have recently commented on HROW. Zacks Investment Research downgraded Harrow Health from a "hold" rating to a "sell" rating in a research report on Wednesday, March 13th. ValuEngine downgraded Harrow Health from a "hold" rating to a "sell" rating in a research report on Wednesday, March 27th.
In other news, Director Robert J. Kammer sold 10,000 shares of the business's stock in a transaction dated Friday, March 1st. The stock was sold at an average price of $6.91, for a total transaction of $69,100.00. The sale was disclosed in a filing with the Securities & Exchange Commission, which can be accessed through
this link
. Over the last three months, insiders have sold 30,000 shares of company stock valued at $175,400. Corporate insiders own 13.78% of the company's stock.
NASDAQ HROW traded up $0.08 during trading on Friday, hitting $4.48. The stock had a trading volume of 165,187 shares, compared to its average volume of 221,241. The company has a market cap of $110.67 million, a P/E ratio of 7.34 and a beta of 0.02. The company has a debt-to-equity ratio of 0.48, a current ratio of 2.76 and a quick ratio of 2.61. Harrow Health has a twelve month low of $1.99 and a twelve month high of $7.20.
Harrow Health (NASDAQ:HROW) last released its earnings results on Tuesday, March 12th. The company reported $0.77 earnings per share for the quarter, missing the consensus estimate of $0.84 by ($0.07). The firm had revenue of $11.38 million during the quarter, compared to analyst estimates of $10.92 million. Harrow Health had a net margin of 35.35% and a return on equity of 177.27%. On average, analysts anticipate that Harrow Health will post -0.02 EPS for the current fiscal year.
Harrow Health Company Profile
Harrow Health, Inc owns a portfolio of healthcare businesses, primarily ophthalmology pharmaceutical compounding business, ImprimisRx, in the United States. It develops, produces, and sells medications, including ophthalmology focused compounding formulations; and sterile and non-sterile compounded medications to physicians and patients.
Featured Article: QQQ ETF
Get a free copy of the Zacks research report on Harrow Health (HROW)
For more information about research offerings from Zacks Investment Research, visit Zacks.com
Receive News & Ratings for Harrow Health Daily - Enter your email address below to receive a concise daily summary of the latest news and analysts' ratings for Harrow Health and related companies with MarketBeat.com's FREE daily email newsletter.